This week is the start of the PhotoPlus Expo in New York. Display manufacturer, EIZO, announced today that during the tradeshow they'll be showing off two new color ColorEdge color management monitors.
The monitors are the CG2730 and the CS2730. Both are 27-inches and feature a 2560 x 1440 resolution. According to EIZO, these new monitors are super thin, with the bezel half the size of previous models and the monitor depth 30% thinner.
Both monitors feature three USB 3.0 ports, HDMI, Display Port and DVI input ports and carrying handles.
The CG2730 comes with a removable shading hood and out of the box support for softwire like ColorNavigator 6 and ColorNavigator NX, but otherwise, the CG and the CS seem to be very similar options.
If you're attending PhotoPlus, you can get some hands on time with the new monitors.
For more details check out the press release below.
°°°
CYPRESS, Calif., October 11, 2016 – EIZO Inc. today announced the new ColorEdge CG2730 and CS2730, two 27-inch monitors with a 2560 x 1440 resolution for professionals and aspiring creatives in varying fields.
The ColorEdge CG2730 and CS2730 feature a sleek new cabinet design. The bottom bezel of both monitors is approximately 46% slimmer and monitor depth is approximately 30% thinner compared to the previous model. The monitors' weight was also reduced by 30% to just 8.9 kg, which when combined with the built-in carrying handle makes them easy to move to various locations or within the studio. The flat design uses electrostatic switches on the front bezel in place of traditional buttons for seamless access to monitor settings. The switches light up using an LED for viewing in dimly-lit work environments.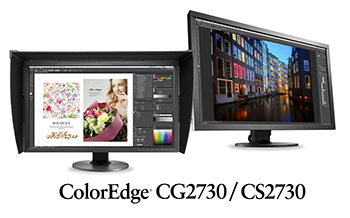 The ColorEdge CG2730 is the professional-level model for use in photography, design, print, and post production. It features a built-in self-calibration sensor for hassle-free monitor maintenance that ensures optimal color reproduction and image consistency throughout the creative workflow. The ColorEdge CS2730 includes many of the advanced features of EIZO's ColorEdge lineup while meeting the varying needs and budgets of hobbyists and prosumers that want to create, edit, and enjoy photography, illustration, and more.
Both the ColorEdge CG2730 and CS2730 feature an IPS (in-plane-switching) panel with a wide gamut that ensures 99% Adobe RGB coverage so photos of vibrant blues and lush greens are reproduced faithfully. The ColorEdge CG2730's panel also covers 98% of the DCI-P3 color space used in post-production as well as features a high contrast ratio of 1500:11 for producing true blacks. It is also equipped with a retardation film which allows dark tones to retain their depth even when viewed from an angle.
Both monitors are equipped with EIZO's unique digital uniformity equalizer technology (DUE) that ensures a Delta-E difference of 3 or less across the screen. This provides users with stable image display for color-critical work.
EIZO bundles its proprietary ColorNavigator 6 software with both monitors for users that require a wide variety of calibration functionality. Users can select preset target values for photography, printing, and web design or set their own target values for brightness, gamma, and white point and generate an ICC profile. Because ColorNavigator 6 is proprietary software, EIZO has ensured it is compatible with a wide range of calibration devices from X-Rite, Datacolor, and other manufacturers.
Shared Additional Features
Smooth gradations with 10-bit display from a 16-bit LUT (look-up-table)2
DisplayPort, HDMI, and DVI input terminals
Three easy-to-access USB 3.0 ports including one port for battery charging devices
Ergonomic stand that offers height, tilt, swivel adjustment, and quick release
5-year warranty that covers all components including the LCD panel3
Free from bright sub-pixels for six months from the date of purchase
ColorEdge CG2730 Additional Features
Brightness, chromaticity, and tone characteristics stabilize in just 3 minutes
Quickly attachable and removable shading hood (optional with CS2730)
Supports ColorNavigator NX and ColorNavigator Network quality control software
Device emulation capability using ColorNavigator 6 software
Brightness and color warranted for up to 10,000 hours from the date of purchase4
TUV Rheinland Color Accuracy (Quick Stability grade) certification
Recognized by Fogra as a Class A FograCert Softproof Monitor
EIZO will be showing the ColorEdge CG2730 and CS2730 at PhotoPlus Expo 2016 in Javits Center, New York City, NY from October 20 – 22. Visit Booth 665 to see the products.
Availability
The ColorEdge CG2730 and CS2730 are shipping November.
Product Information